Newbie Moms' FAQs on Cloth Diaper
I am happy that more and more of my friends are interested in having their little ones cloth diapered (CD). I also feel honored whenever moms seek my opinion and advice in their decision to go CD.
To help more parents out there, I have compiled the most frequently asked questions (FAQs) by CD newbies:
What is the difference and benefits of using modern cloth diapers (CD) as compared with (1) traditional cloth diapers  and (2) disposable diapers (DD) ? 

CDs are designed to look like an underwear for kids  that has snaps. There are a wide variety of prints to choose from. A good friend of mine's baby walks around in CD and others find it so cute. Talk about fashion statement! It is made of breathable soft cloth which is safe for babies' skin, unlike DDs which are usually made of plastic. Since CDs are made of breathable fabric, it lessens the chances of having diaper rash or urinary track infections (UTI). I have first hand experience on this because my second born son, H, got really nasty rash with DD. It is so bad that his buttocks had little wounds because of the inflammation. When we used CD, we no longer experienced that.
CDs have highly absorbent inserts which makes it wearable for a good 4-6 hours, depending on the type of insert. This is way better than the traditional diaper gauze which is only good for one wetting.
CDs are safer to use than traditional cloth diapers because with the latter, you will have to use pins or metal clips to secure the sides, which can hurt the baby if accidentally opened or unfastened. CDs on the other hand have plastic snaps to secure the diaper thus, no sharp or pointed edges that can hurt the baby.
The best thing that I like about CD is that it is environment friendly because it is reusable. Baby H, has been using his set for two years now. With my first born, EA, I was not yet introduced to CDs so he was exclusively using DDs. Every week, we throw about 50 diapers in the trash. In a month approximately 200 and in a year about 2,400 diapers! And for infants, the usage is more. So many, and these are non-biodegradable waste. Wow, talked about the pollution we contributed!
Since CDs are reusable, we did away with buying DD every week. A pack of 52 DDs costs Php660  or $15, monthly then is $2,640 ($62). So that is P31,680 ($737) for one year, and prices increase every year. Other diaper brands costs higher than that.
What are the sizes? Is cloth diapers costly too if I will buy again once they grew in it?
There CDs that have sizes but the most popular are the one-size diapers. Most of Baby H's diapers are one size CDs and it is what I will recommend that you buy in order to maximize your savings.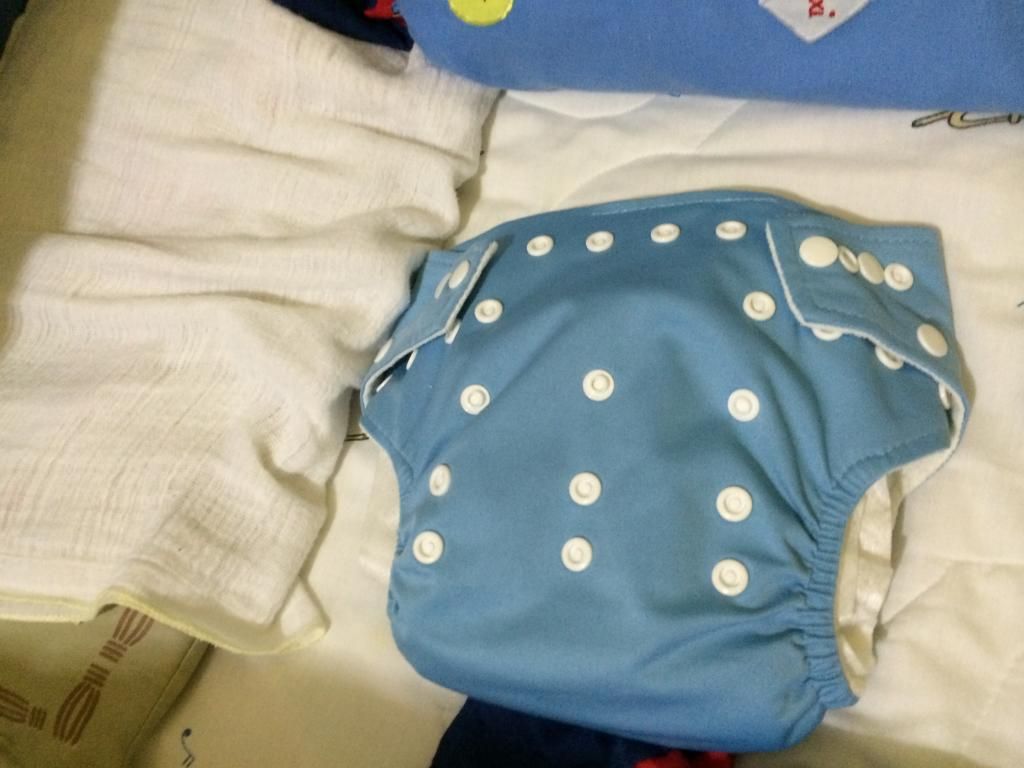 So how does it work? there are several snaps on the waist band that you can adjust as they grow. The crotch part is adjustable as well.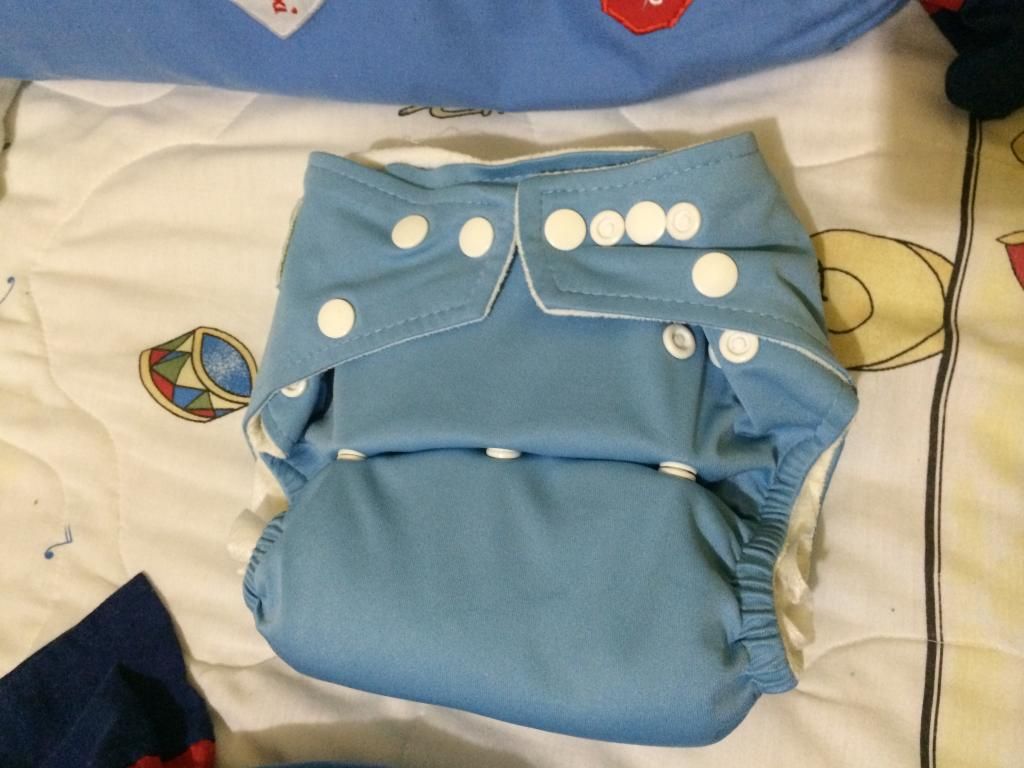 For newborns, the diaper will look like these. As they grow, you can keep on adjusting the sizes.
But will "reusable" mean more work for me?
Not at all! CDs and its inserts are washing machine friendly! A regular detergent can be used so no need to buy a special detergent for it. Fabric softeners are not allowed to be used for your CDs so that is deduction of cost. CDs are not to be ironed as it will ruin the absorbency of the inserts and shells (diaper itself). So therefore, CDs are just like new clothes of a new member of the family. No special soaps. No ironing. No added work.
To lessen the urine residue that the CD has as you put them in the washing machine, it is advisable that after use, CDs are soaked in a basin or pail of water. This is remmended especially if you do not wash your clothes everyday. It will limit stains and odor if soaked in water prior to washing.
How many cloth diapers should i stock?
On my personal opinion, 20pcs is enough. If you do your laundry every other day, this will be more than enough. But to be safe, better have a buffer stock for the rainy days when it takes a while  to dry the CDs especially the liners. A friend of mine has 25 and she does laundry every other and according to her she is able to sustain exclusive CD for her 1 year old.
How much is the price per CD?
The price of the CD depends on the brand. High end brand CDs cost twice than the other brands. The standard cost is Php395 ($9). But there are group buys where you can buy at a relatively lower cost.
It may seem costly at first. My advice is to start buying during your pregnancy. Also, if friends ask you what gift you prefer for baby showers, do not be ashamed to tell them to get your baby CDs. After all, your friends want to give you what you need. During my Baby H's baptism I requested for CD when my officemates asked me what gift we prefer. There are baby registry as well even for some online sellers of CD so you can register there as well.
Even if you did buy the 20 or 30pcs, the cost will only be half of the cost of disposables for one year. Please note that these CDs can be worn until your baby is potty turned so think of it as an investment.
Among the popular CD brands are Next9, Babyleaf and Alva. The high end ones are Charlie Banana, Baby Wizard and Bamboo Dappy. Baby H has tried almost all of these brands. You can read about my review here.
I hope I was able to answer your queries about cloth diapers. Furthermore, I hope I was able to convince you to exclusively CD your baby. Happy cloth diapering!